CD-SHOP by Courtney Love on MUSIC by MGCK Music by UK Copyright Advice by The World
The TWELFTH NIGHT 'VOICES IN THE NIGHT' Double CD is now available on Cyclops Records. The album of previously unreleased material, includes 3 of the earliest Twelfth Night tracks written and performed with 'Electra', in that brief, but glittering period when she was their lyricist/vocalist. If you like the words 'PROG' and 'ROCK' in the same sentence, you'll like this. So, GO get it NOW! [SLEEVE NOTES] [Hey, don't you guys owe me a Royalty cheque???!!!!]
APRIL MAY JUNE JULY 2008 -
- California Dreaming
Thurs 31 July 2008 - MGCK Music
Last day of the month... already.
TONIGHT (maybe): 'THE FUCKING BUCKAROOS' @ KIMO's
on the corner of Bush and Polk. (no pun intended)
It's not often anything catches my attention, but even if they're dreadful, with a name like that, I've got to give it a look (and maybe a listen) and it's only a coupla blocks from here. [ I just hope I got the date right and it's not an old poster stuck in the doorway. All I read was 'THURSDAY NIGHT' - I hope that means 'tonight'.] [ Correction... the THURSDAY they were referring to is the 21st August THRILLFEST! So, yeah.. I'll be there.]
YESTERDAY AFTERNOON: I ran downstairs to the Opera Plaza Cinema to see an incredible film 'MY WINNIPEG' by Guy Maddin. FAN-TAS-TIC. One of the best indy films I think I've ever seen. So inventive and clever and artistic and INFORMATIVE in the most unusual way about, of all places, WINNIPEG! I can't recommend enough this truly, genuinely, surprisingly gently, funny film.

As a film-maker Maddin decides that he has to come to terms with his childhood, his life, his town and HIS MOTHER! "a direction from which I could not turn". He rents the house he grew up in, hires his 88-year old mother to play herself and some local Winnipeg teenage talent to play his brothers and sisters. He takes us through his own history and the fantastical history of the town of Winnipeg, surprisingly only 104 years old. At the end, he goes through all the things that should have made Winnipeg great, all the things that would have helped and suggests a City Icon - the WINNIPEG answer to the bare-breasted 'Page 3' girl of lesser periodicals. The City Icon they never had: CITIZEN GIRL. The supergirl who changes everything back for the better. Stops the developers from ripping up and tearing down a civic center and preserves the most wonderful and beloved aspects of a town: those things that always get trampled by progress. Guy Maddin, wherever you are, thank you for this beautifully crafted, thought out and executed little jewel.

He also got me thinking while I was watching: He used all this Kodak Super8 and 16mm film from his childhood; clips of his dog, of his mother, of his favourite couch in the living room, of his brothers and sisters ice-skating. Broke my heart. I wondered where all the film from my childhood had gone. But more than anything he got me thinking about our lives. I realised, what makes you individual from all the rest of the people on this planet is 'your life'. And whatever your life story is, it's completely unique.
LAST BUT NOT LEAST... we say farewell to the setting sun - last night of July and only hours before the TOTAL ECLIPSE on 1 August - which will be visible on another continent much further North and West of here.
I desperately want to sail on one of these cargo ship that depart San Francisco Bay every evening under the Golden Gate Bridge and head out across the vast Pacific - escorted in the fading light by flocks of pelicans
[photos by Electra, Linkin Park, San Francisco, 31 July 08]
---------------------------------------------------------------------------------
Mon 28 July 2008 - MGCK Music
The pinch...
Gas prices and emerging musicians, established bands... anyone who relies on their income from a tour-bus and trucks full of equipment. The crunch is here... forcing musicians to tour the Internet rather than the Interstate.
-----------------------------------------
Thurs 25 July 2008 - MGCK Music
Paradise, Inc
"Paradise is a life lived without consequences." Vala C.
--------------------------------------------------------
Mon 22 July 2008 - MGCK Music
Red Sky at night...
At the beach tonight, the sun was PINK as it sank into the 'marine layer'. An incredible sunset. Blew my tiny little mind.
and who knows what the crew of the cargo ship leaving San Francisco thought...
when it touched the horizon, it flared like an atomic blast
then mushroom clouded into the coming darkness...
So many people watch the sun set each night at Ocean Beach, including seagulls
and surfers
In the next life, I want to be reincarnated as a 'surfer'.
[photos by Electra July 2008]
Art Quote of the Day:
Of all lies, art is the least untrue. Gustave Flaubert
------------------------------------------------
Sat 19 July 2008 - MGCK Music
Birthday coming up (Leo)
Means you study yourself in the mirror (Leos do that EVERY day)
I decided I like my hair.
----------------------------------
[photos courtesy G Novak]
Mon 7 July 2008 - MGCK Music
"SchwwwwwwwwING! Baby!!!!"
"""It's a LOVE Reaction!!!"""
Last night I broke all the rules, whatever they were, like, uh.. "don't take any pictures"... OK.. Still, I shot as much music footage as I could, ducking-and-diving the 'STAFF'. Sometimes I just left the camera on, pointed at nothing.. getting the sound. I wished I could get it all... Todd's voice and playing (he looked good too, better than I expected, 'specially when he took his shirt off for the encore and said, "My secret??? Gardening.") and his band (three guitars, rock-solid drummer and one young female bass player - Rachel Hayden) were genuinely AMAZING. The vibe in the house was incredible. It's all this yank hyperbole, but f*ck yeah!... a superb gig night in old San Francisco. And I'll probably get my YouTube account revoked and then I'll get SUED by Todd Rundgren for uploading illegal snippets. But hey.. he's worth it.
Oh yeah...during the event, three other things happened:
I got stoned.

I denied my passion for my East Coast New York origins and wished I'd grown up in California. [The 'Golden State' IS a hands-down, mind-blowing, off it's head and off the richter-scale amazing place, and

I wished I was at least 10 years older so I could have experienced the 60's and 70's in San Francisco; gone to some of the gigs I heard one very youthful looking guy in the audience talking about... circa 1966!!!!
So, really, you know a gig is GREAT when you want to run out and buy the complete back catalogue, so yes, TODD RUNDGREN you were GREAT last night under the packed gold-leaf crenelated balconies, beneath the baroque muraled ceilings of a turn-of-the-last-century venue between Polk & Larken on O'Farrell in San Francisco.
[photos and video by Electra July 08]
From my Personal Magick @ MGCK Music
----------------------------------------------
Sun 6 July 2008 - MGCK Music
Another 'living' psychaedelic legend...
TONIGHT: Todd Rundgren @ The Great American Music Hall.. The Warfield may be closed for renovation til the autumn, but the message is out there.
[I couldn't miss it for love OR money.. ]
The sun finally rises above the fog and sets over Alcatraz
and the Bay on the 5th
The glorious foggy 4th of July
San Francisco was cloaked in fog for the last week or two. I heard, but never saw the rockets red glare, yet the City Hall cupola looked beautiful bedecked with wisps of mist.
[photos by Electra July 4,5, 6 2008]
----------------------------------------
Wed 2 July 2008 - MGCK Music
A new month and the sun still sets
Went for a little stroll by the Cliff House last night above Ocean Beach and caught a lone surfer and other stragglers still frolicking in the ice cold Pacific at 8pm
and the sun sets as a storm moves inland from sea. The cloudbank like a giant tsunami heading for shore.
I'm reading a wonderful book called 'Devil's Teeth' by Susan Casey. The book documents the author's involvement in Great White Shark research out at the Farallons, just 20+ miles away from this beach. I wouldn't get in the water in the North California Pacific for anything, and, as awe-somely beautiful as the vistas are, sometimes even LOOKING at the water here scares me.
[photos by Electra July 1 2008]
------------------------------------------
Sat 28 - Sun 29 June 2008 - MGCK Music
Gay Pride Week in San Francisco
Art Quote of the Day
In art as in love, instinct is enough.
Anatole France


Gayhem: "An orgiastic celebration of sex, liberty and love."
The Gay Pride celebration locus - outside the City Hall in San Francisco's Civic Center - was blocked off to traffic creating a 'many streets' party. It was HUGE and funny and alive and music and beer and lotsa dancing.
I get it now... the ENORMOUS difference between 'gay' men and 'straight men: Gay men dance!!!!
and so it goes.....
[photos and video by Electra June 08]
------------------------------------------------------
but before I got out there to capture it with my camera....
Yesterday, I finally went to see 'Sex & The City'. I'd been saving it up for weeks to stoke the anticipation. What I got was curious disappointment and multiple urges to get up and walk out. Firstly, I'm not ageist, but, goddammit, and this REALLY upset me, the women looked terrible.. all except Samantha Jones (Kim Cattrall) who has always 'played her age' and thus is a lioness of continuity; an in-yer-face femme fatale. The little Presbyterian Princess - Charlotte - looked great as well, so really.. it's just TWO women who looked like hell. The Carrie Bradshaw character and the Miranda Hobbs character looked haggard and 10-years-in-the-coalmines 'older' than their presumed '40-ish'. In other words, NOT 'Hot', not 'wantable' or 'wannabe-able' and not anywhere near the suggested 'new youth' of '40'. I gasped at the knee and neck wrinkles;
[like a herd of saggy pachyderms] (ps - I did NOT take this photograph)
Topped by a lot of skin that looked tautly over-worked from endless facials and cosmetic surgeons' tucks and treatments. And I wondered if being in 'the business' was not ageing to 'the actress'. Or maybe the cameras they use are 'BRUTALLY' unforgiving to the wear-and-tear of these careers. Yet, a truly beautiful woman, is always a beautiful woman - at any age and there's not a lot of them out there, at any age, to begin with. (N.B. - check out Sophia Loren in 'Pret by Porter', 60+ and ROCKIN' or the incredibly beautiful Julie Christie in 'Away From Her'. Another goddess in her 60's.) But these 'Sex...' women, who weren't what you'd call 'beautiful' to begin with, well, they've clearly been pushing the envelope, a little too hard and even the well-timed wisecracks and large personalities can't hide it. Perhaps the pitfall is the fact the two 'haggard' looking actresses have had children in the last couple of years. Maybe that's what takes it out of a woman.
The good news? The New Year's Eve heart-strings tugging segment, tugged my heart-strings to death. I've watched the ball go down in Times Square so many years of my life on a foreign television, usually in tears, so yes, that segment almost had me on my knees. I MISS New York and wonder if I'll ever see it again any time soon. Perhaps that was the part of the title that really mattered... '...And The CITY!'
-------------------------------------------------
Thurs 26 June 2008 - MGCK Music
Snapshooting
I've got a new camera, well.. not new.. it was my sister's and it's purported to be a finer camera than the Fuji I'm using (i.e. it LOOKS substantial, with two killer lenses) a NIKON D70 - they've already come out with a D80 and maybe a D90 - so it's not 'state-of-the-art, but still it's pretty cool and it's the camera I REALLY wanted for my birthday last year when JM bought me the FUJI (which I have come to love and takes the most incredible photographs in dark situations but hates daylight!!)... As with any camera you have to figure out it's talents - what it's good at, what you can use it for. Close-ups, shadows, evening light, colours, bright sun, distance/perspective, contrast, people, landscapes; the whole nine yards of visual possibilities. I haven't figured out what this camera is good at yet and it WEIGHS A TON!!! The carrying case needs a roadie to cart it around. But I did take it to the SF Zoo to photograph the lions
and Tatiana the Siberian Tiger's 'empty' enclosure (remember the SFPD shot her dead last year, when she caught up with one of her tormentor's in the Leaping Lemur Coffee Shop at the Zoo), newly upgraded with reinforced glass. No tiger will be making the leap across that moat now. I guess it's not good for areas of low contrast as this photograph was less than inspiring.
So after all is said and done, I've yet to be impressed with what this fancy camera - and it's mile-long lenses that need special care and cleaning - can do. I'm thinking the 'best' camera I've had in recent time for just straight random snap-shooting (my favourite kind of camerawork) has been the Kodak 330. Small, portable, reliable, even if I broke the battery case when I dropped it and had to tape it up. Just a great little camera with a perfect 'colour' sense. The 'better' the camera I'm getting now, the BIGGER and the more unwieldy and you have to carry a tripod with you and all that nonsense and so often, they're only good at 'certain' things. It's driving me crazy. I don't want to have to carry three or four cameras with me everywhere I go. Oh for my little itty bitty Kodak cutey, which I left at home in Edinburgh: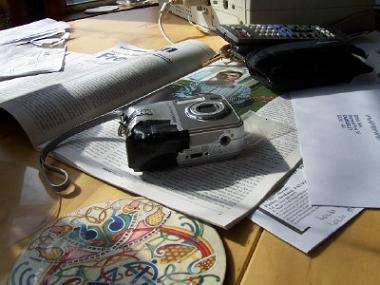 ------------------------------------------------------
Tues 24 June 2008 - MGCK Music
Life on the Pharm
"Livin' on Reds, vitamin C and cocaine..." The Grateful Dead
I've heard Lemmy say it, but you can know it too. Americans are SO wonderfully, wackily, cum-plete-ly off their heads. This is a genuine dyed-in-the-wool, hard-assed, bitch-slappin' 'drug' culture. Not only do they have plenty of potent weed to light your wick with just a toke or two but there's a new trend in social fun: 'Pharm Parties'. And what, you may ask, IS a 'Pharm Party'??? Well, your friends (could be all your MySpace 'Friends') show up and bring their prescriptions (not the ones for intestinal parasites, though who knows... maybe), pour them into a bowl and then grab random handfuls and wash it down with any brew handy. The faves for bowl contents are, of course, Vicodan, Valium, Lunesta, Ritalin, Ativan, Xanax and any other groovy sleepers, tranqs, speed, anti-depressants, multi-depressants, anything really that gets you there in 'scrip' pill form. (I'm sure some people cheat and pick out the ones they like best, flicking aside the ones they don't; just like M & M's - nobody eats the brown ones..)
I've got some Rolaids and Aspirin....

I remember a typical 'not-a--pharm party' before 'pharm party' was the thing; in Mykonos several summers ago. A girl from Miami by 'Elisa' by (hey.. I didn't give you her last name, but last I heard she'd crashed her SUV in a high-speed chase with police while trying to hide the meth in the glove-box) had came to BB's summer house (the aptly named 'Nazi Spa') armed with a veritable pharmacopoeia of apparently, legally prescribed gear. Every evening before we'd go out, she'd drop a coupla pills in front of each of us while we were having cocktails and we'd mix and match. Some months later, I found one of her random capsules in a shirt pocket. I was about to pop it in my mouth when I thought to check the tiny lettering on the side. It read 'Prozac'. I'd always wondered why we didn't get that high in Mykonos.. still...it was better than nothing and less hassle than procuring Class A's.

Now for the 'if only's': If only they'd bring back the REAL rockin' pharmaceuticals that have been banned. Bring back 'Rainbows' (Tuinal), 'Reds' (Seconal), 'Yellows' (Nembutol), 'Black Beauties' (also known in the parlance as 'black bombers'), Dexies, Bennies, Blues, Purple Hearts, QUAALUDES!!! Oh my gosh... I'm getting a contact high from the text!!!!! [Speaking of contact highs, I was standing next to a guy in the library yesterday who stank so ferociously of marrijijuana-na, I thought I was gonna to pass out. God knows how he stayed standing.]

Anyway, all those great old concoctions... gone... like camel riding. All those colourful names harken me back to my own myth-spent, pre-pharm-partied, lets-raid-the-medicine-cabinet youth. And in those days, the medicine cabinet was WELL-stocked, 'specially if your father was a doctor. Call me irresponsible but for Chrissake, just CALL ME! OH FOR THE GOOD OLD DAYZ!!!

Maybe their back again, for some.

[as usual, photos by Electra June 08]

-----------------------------------------------------

Fri-Sat 20-21 June 2008 - MGCK Music
Summer Solstice
JM called me from Argyll. He's in a house looking down across to Islay and the Paps of Jura, while I am in San Francisco, walking Ocean Beach, checking out the magnificent Pacific sunsets: Last night was a fine mix of mood and colour
sunset began hidden above clouds in a smoking gunmetal sky above Ocean Beach
Surfers peruse the horizon - zen-like... hanging just beyond the breakers, always looking out to sea (like a Friedrich painting). I guess that's the trip. Just hangin' on the boards, watching the changing colours, waiting for the next big wave. The ideal way to live....just surf it.
back on the beach, driftwood sculptures by an unknown artist dot the path
littered with sand dollars
and messages
while a freighter steams towards China
the sun drops below the clouds, bathing fisherman in pastel pinks and blues
then the real sunset lightshow begins
and the colours just go crazy
turning sea and sky to fire
a last heavenly gasp of light for those watching from the beach
and then it's over, and they build bonfires and crack open beers for the cooling night ahead
[photos by Electra, Ocean Beach, San Francisco, 20 June 08]
--------------------------------------
Thurs 19 June 2008 - MGCK Music
Last night: Full Moon in Sagitarrius,
signalling the END Of the Mercury Retrograde in Gemini
If you never believed in astrology, the last Mercury Retrograde in Gemini was a hands-down convincer. In the last 3 weeks, since 25 May, life was just like a Lucinda William's song: EVERYTHING WAS WRONG! ( How we got through the trip south and through the Borderland deserts and back again, I don't know. Every day something went wrong. But BIG THINGS went wrong. If I wasn't a believer before, I'm a believer now. According to the stars, there should be a release of that blocked energy from this day forward and life should flow a little more smoothly, (unless you're living in Darfur, or Afghanistan or Iraq or IOWA! and/or a few other hotspots around the globe).
Thought for the Day: Marc Chagall
and art in San Francisco keeps going strong
-------------------------------------------------------------------
Mon 16 June 2008 - MGCK Music
'Love is the law'
Today's the day: Same sex marriages start again in San Francisco. Gavin Newsom will be marrying two ladies in their 80's at 5:01 pm. The first famous couple to hook up under the newly OK'd law. Tomorrow, the queues will be stringing around the block of gay and lesbian couples in a hurry to get hitched.
The signs tell the tale:
(a rather attractive photographer I hoped was NOT gay.)
[photos by Electra outside the City Hall San Francisco, June 08]
--------------
Wed 11 June 2008 - MGCK Music
America is changing
I don't know, but there's something going on in this country. FOX News spews out hate and the swan-song of 'dedicated self interest'. You can cross a street against the light and drivers 'speed up' attempting to smash you to bits. The appellation 'dickhead!' dances temptingly on the tip of your tongue while in the company of other humans, particularly men, young or old. There's something happening here and it's not good. JM and me noticed it everywhere we went. A kind of mental congestion, maybe caused by watching too much of a good thing, now perilously slipping, IV-dripping away with gas prices, global warming and overpopulation. That good thing - the American Dream - is slowly going... the way of the buffalo.
But still.... one thing assuredly remains the same - the FOX News christened 'San Fran-Psycho'.. that's what they call this alternative, mad town. And boy, now that we're back, yes... not much changes here.. whether it's naked triathlons with naked spectators marching back down Market Street at mid-day
or their unabashed talent for stating the obvious.
MK Ultra DEFINITELY put something in the water in this town. The typically recognised 'normative' American behaviour shouts, 'Failure is not an Option!'. The San Franciscan shouts 'Normative Behaviour is not an Option!' and ever less likely.
[photos by Electra AKA Electrasong June 08]
-----------------------------------------------
Mon 26 May to Sun 8 June 2008 - MGCK Music
Back in the saddle again
Crossing the Mojave Desert on our way to the borderlands of Arizona,
through the Joshua trees... channelling Graham Parsons..
Too many places to describe
from the Redwoods and granite cliffs of the Sierras to the Sonoran expanses, wildlife : caracaras, coatimundis, coyotes, rattlesnakes, and yes, WE SAW A MOUNTAIN LION lapping water in a rocky arroyo (he was MAGNIFICENT!) Climbed the same mountain it took us hours to get up in about 20 seconds of powerful leaps. Nature, Geology and Art: Petroglyphs and the Pacific Ocean
ancient petroglyphs in the south Arizona desert
my brother and his beautiful daughter Genia Lozen (named 'Genia' (Gen-ya) after our mother and 'Lozen' after the Apache Warrior Princess. I climbed a mountain with this girl and yes, she DEFINITELY has Apache Warrior Princess flowing in her blood.
on a particularly l-o-n-g, hot, steep, climb, I almost clocked out from heatstroke.
and JM also discovers it's HOT!
Mrs Rattlesnake on our path, after we'd already met her husband, Mr BIGGEST Rattlesnake. 4- 5 feet in length.
later that evening
we spotted a pair of caracaras, one holding sentinel atop a Saguaro
and a broken heart lying in the rocks
mesquite and Saguaro at sunset
showing us the road south to Mexico
after days of hiking and heat-stroke, we said good-bye to the magnificent PARCHING deserts and headed North again to cooler climes.
up Route 66
days later, fully recovered under Bridal Veil Falls, Yosemite
JM @ Glacier Point, Yosemite
We greet the huge blue Pacific
and the bridge taking us back to San Francisco (look a little glum? We don't want to go back to dull civilisation. All that 'noise'. All those 'dickheads' all that 'fun fun fun'.)
[all photos Electra 25 May - 8 June 2006 except the photo of Electra taken by James Miller in Yosemite and on the Rincon Peak hike]
**Special thanks to Dena, Ileana and Molly for our days 'out at the ranch'.
---------------------------------------------------
Mon 19 May 2008 - MGCK Music
So IT GOES!
"As goes California, so goes the Nation!" Gavin Newsom, Mayor of San Francisco
This last couple of weeks California, or SF specifically, went wild. California Supreme Court re-overturned the overturning of the ruling allowing Gay Marriages and the Bay to Breakers race was run by many naked people and others dressed as doughnuts, popes and poledancers. Something about a food and fetish theme. I did not take ANY of these photos below.
"Hordes run, walk or stumble in Bay to Breakers
An Elvis crew will run among the thousands of runners as they stream down Howard Street near Fourth Street during the 97th Bay to Breakers 12k foot race through San Francisco on Sunday, May 18, 2008. Chronicle photo by Michael Macor
"Matthew Jennings dressed as the pope and Sara Trumpler of San Rafael, Calif., run down Fell Street during the 97th annual ING Bay to Breakers 12k foot race in San Francisco, on May 18, 2008. Chronicle photo by Michael Maloney
"Two of many naked runners head along the panhandle of Golden Gate Park during the 97th annual ING Bay to Breakers 12k foot race in San Francisco, on May 18, 2008. Chronicle photo by Michael Maloney"
"Ian Aldous of San Francisco sat on a rolling couch inviting pole dancers to entertain him. Ben Damron accepted the invitation as they traveled on Fell Street near Golden Gate Park during the 97th annual ING Bay to Breakers 12k foot race in San Francisco, on May 18, 2008. Chronicle photo by Michael Maloney
"Donuts in a tray head down Fell Street near Golden Gate Park during the 97th annual ING Bay to Breakers 12k foot race in San Francisco, on May 18, 2008. Chronicle photo by Michael Maloney"
So.. does it all look like fun and merriment in San Francisco? I must admit, I've never been in a place where people are more willing to 'dress up' or 'dress down', like get naked for parades and fairs.... Any excuse and they'll come to work as drag queens or vampires; race through the streets in the buff or dressed as cupcakes or the Golden Gate Bridge; every holiday is a celebration of something else altogether... they like to party in this town. They also have a protest march every other day. This town IS a hands down hotbed and true home for un-convention, alternative thinking and the universal aspirations to rise HIGH and be very very FREE! No wonder the conservatives call it "San Fran-psycho".
Every time I come back here I think of that iron-dark oh so 'British' (yes, both Scots AND English men alike) reserve. The only time they let their guard down or put the mascara on is when they're storming drunk. Combine this San Francisco party-hardy atmosphere with the perfect late Spring weather we're having and yes, it is a tempestuous, tempting cocktail of 'oh please God, don't ever make me leave this town!' Years ago.. I couldn't wait to get away. How things change and how we change with them. -----
(i didn't take any of these photographs, my camera was recharging batteries on this fine sunny Sunday morning.) all above photos and caption-text from The SF Chronicle:
-----------------------------------------------
Just a note on life in general: My sister's still dead and I'm still broken-hearted about it. I want to thank all of the people who have deeply shared their own hurts and experiences and kindness and condolences with me in the recent weeks. You've all helped move a terrible mountain a few inches. It all helps. Thanks again.
"FREETIME" - an homage to San Francisco and Highway 1
<>
-----------------------------------------------------------------------------------------------
Tues 6 May 2008 - MGCK Music
More Bad TV
as in TELEVISION, not TRANSVESTITEs, though sometimes...it's anybody's guess what they're selling: i.e. MTV's "Hills". What the heck's with 'HILLS'... I wish I could say 'LoLocaust!' but it spews forth in a frustrated mewling sound, coerced agonizingly from my lips. This Social Scientist is watching 'HILLS' just WAITING for SOMETHING TO HAPPEN!!! (and it does! thank God for Commercials!) we go from one dull interest-less dude's apartment to another interest-less dudette's apartment, to some frenetic anxiety-filled 'backstage' at a low-fi LA "fashion show" and every segueway is an exhausting 20 MPH drive on the Hollywood Freeway in some gas-guzzling SUV. It's so painfully 'retro' Beverly Hills '9-0-Fuck-Off-1' value'd. It's like being forced to WATCH the wire-tap of two 13 year olds on a Friday-night phone-athon. - But, these people are, hello!, supposed to be ADULTS!!. The new 'yewth' or 'newth'. They've all been f*ckin' exhausted and life-drained with constant, pointless stimuli, like a tortured mutt, who gives up trying to jump away from the pain and just lies down, resigned. (The other image is the frog placed in cold water and brought slowly to a boil, never attempting escape. By degrees inured to the rising discomfort til death occurs. The same with 'modern' life in an ever faster lane.)
Add to that. it's a MUSIC-LESS WORLD they're living in.! These 'characters' NEVER listen to music in their homes or in their cars. The stereo is never obscuring conversation, never just blasting out Zeppelin or Mariah Carey, Beyonce, Mars Volta, The Kings of Leon or Patsy Montana. Nobody's head is bobbin' to the rhythm. NO-THING. So strange what's happening to music out there. According to MTV (Music Tele-VIsion) people DO NOT listen to music in their homes. So... when and where do people listen???
Another possible twist to the 'WHERE's MUSIC'? plot: I read an article about a plan to start playing tracks on video games without giving any track information and if you like it you can PHONE IN to find out who it is, i.e. pay the full charge of a premium Cellphone call. Otherwise, you'll never know. Incredible. Music is being shiftied around as a consumer-less commodity these days. Soon, they're going to refuse you access to it by any means, unless you are willing to pay outright and up front for the chance to hear any of it. They've got to make back their lost millions somehow. And what about the artists? We're not all hip-hoppers running around in Gold-plated Humvees.
Which brings me to the other thing I was watching: Flavour of Love (Flava FLAV! finds LOVE) reruns, which I can only handle for about the time it takes to reach a commercial, which gratefully is briefer and briefer on American television. The programs are kinda craftily spliced in between.
But anyway... it's MAY outside and it's rockin' beautiful sunshine in San Francisco's by the City Hall.
[All photos Electra 5 May 2008 - and shoot me out of a canon, but I can't remember the name of the Spanish sculptor from Valencia who's bronze pieces are adorning Civic Centre in front of City Hall this week. Oh hold on... here it is. Manolo Valdes]
-----------------------------------------------
Sun 4 May 2008 - MGCK Music
FIFI J!
I forgot, sometime in early May is Fifi J's birthday. I will send her something... (better get on it.)
----------------------------------------------------
1 May 2008 - MGCK Music
May Day
All Pacific ports on the West Coast from San Diego to Seattle are closed for a workers strike and protest to end the War in Iraq.
Also, Albert Hoffmann is dead at the age of 102. The end of an era.
January 2005:
Albert Hoffman is still alive and, apparently, well. 99 going on 100. Here's to Albert! Here's to the two Alberts.. Einstein and Hoffman. Men who changed the 20th Century.


January 2006: One piece of GOOD NEWS>
Albert Hoffman, the creator of one of the most miraculous substances of the 20th Century and, if you believe Graham Hancock's book 'Supernature', a participant in our next evolution, had his 100th birthday this week! Without him, who knows what our world would be like. Pretty straight up and down.


Before his death, Albert Hoffmann mentioned he was delighted that Switzerland had re-opened experimentation (in December 2007) with his extraordinary creation d-lysergic acid dyethlamide.
See... there's always hope.
--------------------------------------------------------------------------------
Sun 27 April 2008 - MGCK Music
This last week in California...
1 Grizzly Bear attack - San Bernadino - fatal
1 Great White Shark attack - San Diego - fatal
(... maybe avoid the 'San's...)
1 Mountain Lion attack - Hayward - fatal for the goat and a little lamb
(Phew... if it had been a 'San' .....!!!)
2 Movies: "Irina Palm" ***** & "The Bank Job"*****
(really loved them both, for different reasons. 'Irina Palm' is a complete one-off story, a total must-see.)
1 Sam Shepard play: "Curse of The Starving Class" - superb.
1 new word: "LOL-ocaust" Texter slang for a holocaust of 'laugh out loud' laughter...or something like.
And half a dozen perfectly setting suns.
*********
[photos Ocean Beach, San Francisco 20 & 25 Apr 08 by Electra]
I haven't done any singing lately... just smoking. I'll either get a case of the 'throaty' vibratos or I'll just have to stop. And, since I'm now kind of 'here' in SF for a while, maybe I should check out those MySpace 'friends', i.e. bands and musicians from the SF area. One thing for sure... the sunsets are marvellous and, to use a clichby , life affirming.
---------------------------------
Wed 16 April 2008 - MGCK Music
Getting back my sea legs...
Last night: Cat Power & Appaloosa @ The Warfield, San Francisco
I love The Warfield. I REALLY LOVE The Warfield and I've seen all kinds of people there over the last 20 years, from Pantera to The Cult (2 x) to Slash's Band after he split from Guns N Roses (cannot for love or money remember that band name, though I remember the Lead Singer's voice and I've got the CD entitled something like 'It's always 5 o'clock somewhere in the world? or is that just crazy) , to Portishead, to a New Year's Eve show with that lesbian comedienne (what the heck is her name? Sandra Bernhardt?) who dated Madonna for a while when Maddy was in her 'Bi' phase, i.e. bi-sexual, not bi-polar. And last night I went again. I was feelin' kinda low, but thought... ""f*ck it.. I'm gonna go down and see if there are any tickets at the box-office, do a 'Walk-In'.. and just GO OUT!
and I did and it was such a groovy and enjoyable night. Out in that beautiful turn of the century theatre with a slightly-wacky-to-mildly alternative fun-lovin' crowd. Reefer blowing all around in the balcony. The girl sitting next to me was a bit stiffer, out of place... a bit more 'corporate and 'uppity-Yuppity'. She kept calling her husband who was OBVIOUSLY OUT in another city, leaving messages like 'Hey Hon This is your wife!!!.. I'm here at the Cat Power gig... I bet you wish you could be here!!" (yeah well... maybe AFTER the 18 year old Siamese escort takes his dick out of her mouth).
I took lots of photos with my sister's cellphone, but have no idea how to download them. Shame. Anyway.. I thought Appaloosa might be a band, but I guess the fuel crunch is hitting where it hurts -travel and shipping of equipment and PEOPLE. Appaloosa was one French girl in front of a little Fischer Price style synthesizer hard-drive thing. She would hit a button and another mellow but dancy throbby synthetic tune would pump out and she would sing in a hushed French 'smooth-style' with little emotional accents over it. Very pleasant and the crowd up front cheered her on, despite her gangly arms and legs, flat plain shoes, plain skirt and like no visual presence. I thought.. you know... when I didn't have a band (like the last 20 years) I DID THIS!!!! I went out with a CD of backing tracks of my own music (canned music), different styles, and did this wacky thing. I just didn't believe in it enough. Miss Electra does Eclectra... but never stuck with it doggedly enough or long enough to figure out exactly what might work for an avant-alternative San Francisco crowd at The Warfield). I guess, the message from this night: 'SELF-BELIEF IS ALL!" Certainly irksome to everybody else, but if you want to get yourself out front and make your message heard? It's the only way. Be obtrusive, obnoxious, ridiculous, embarrassing and embarrassed, but BE THERE!!!
So yeah.. memo to self: Get back up on a stage, when your sea legs are a little more solid.
And Appaloosa did only a half hour set then two of Cat Power's band members joined her on keyboard and guitar for one moving number.. but actually.. I liked her solo lone-chicken dance in front of the synth-box better. It was 'fresher' and more unfettered.
After another two beers, a long chat with a huge yet gentle and very lovely security guard named Israel Somethin' Somethin' the IVth and 45 minutes where they kept us waiting while they didn't have to set up (so we don't know what the hell they was doin' back there), Miss Chan Marshall aka Cat Power appeared. I normally live (well most days) in Edinburgh, so know of Cat Power from all those gigs at the Liquid Rooms that I never went to, that I'd read a snippet about in The List where they would say she kind of didn't finish her set, that she is painfully shy, that she is kooky and quiet and oddly unique.
Well... last night she was kooky alright.. in a musical frat-girl wants to have Breakfast At Tiffany's Holly Go-Lightly without the Audrey Hepburn pure beauty or deep fashion sense way. It was kind of beatnik bohemian, yet groovin... and sh*t yeah! SHE HAD A BAND!!! and they played real strong and edgy and her hummingbird hushed throaty soft thing layered over it, that she has selected as her own, (though it's not as sexy, soft, sweet, strong or articulate as Dusty Springfield - not anything LIKE Dusty Springfield actually), but it's there and not a lot of people are doing it. I gathered after one or two numbers (and some other reading I did somewhere) that this set is a collection of covers. She did a Janis Joplin Big Brother and The Holding Company song that I have always LOVED but never remembered, until she trotted it out and then you think, "what a great song that is."
So yeah.. I liked Chan Marshall aka Cat Power!, but after 4 or 5 numbers I'd had enough and walked out the door and down the turn of the century staircase and out into the San Francisco night. Market Street is still spooky in that same old 'Tenderloin' style.. so really, you don't want to be walking home after 11 (well anytime on that part of Market) unless you've got an Uzi or a bag of crack to deal out to the hungry, lined up in their hundreds along the way, lookin' for a score or a tourist to bump.
So that was it really. I enjoyed every minute of the two lady singers that I sat through. It wasn't quite as inspiring as three days at the DOWNLOAD Fest headlined with Metallica two years ago.. but hey... you've got to stop and smell the roses.. enjoy the little things.
------------------------------------------------
Wed 9 April 2008 - MGCK Music
Free Tibet...
yesterday, the first wave of marches against the Chinese Olympics. We joined the marchers on Van Ness
Last night Desmond Tu Tu addressed the crowd at a candlelight vigil outside the City Hall, just two blocks from here and, unfortunately, we missed it because we were at dinner across town. Today San Francisco is gearing up for today's Torch Bearer's gauntlet and we will definitely be there.
Later: Actually, we WERE there see vid below of the FREE TIBET support at the Embarcadero, which stopped the Torch Run
After all is said and done, the power of human dissent is still a great power. They had to hide the torch and spirit it away on a bus to the airport where the 'torch' ceremonies were held in a secret place (probably a hangar) before it was flown to China.
other images from the day: Truth is Our Only Weapon
followed by those who are proud (or paid!) to be Chinese
last but not least...a man with self-interest and a sense of humour
[photos and vids 8 & 9 Apr 2008 San Francisco by Electra]
--------------------------------------------------------
Fri 4 April 2008 - MGCK Music
Spring is sprung...
Time to stop your crying and start living again. Spring is about renewal...
and lovers on beaches watching the setting sun.... and each other.
[photo Ocean Beach, San Francisco 3 Apr 08 by Electra]
Art is the most beautiful of all lies.
Claude Debussy
more Famous Quotes
And as with every new month... I'll be retiring an 'old' month.. Probably May-June 2005 - California Dreaming.....
JUNE 2005 - Here's to the Open Road
End MAY... almost Moon Spoon JUNE 2005
SAN FRANCISCO - Open your Golden Gate
Take me back to Ocean Beach... and don't spare the horses
last week May...sometime near June 2005 Fri MGCK Music

Whatever happened to..... the open road?
The surfer knows.
April ended with a trip to the beach to ponder the curve of the world across the blue Pacific horizon. Wet-suited surf-dudes plying their trade up and down the waves. The AquaSurf shop played the best tunes. "If you're going to San Francisco.. be sure to wear some flowers in your hair.."
And so.. I'm back.. from outer space.. from the land of sun, fun, hyper-consumerism, super-pollution, teenage billionaires, and nano-technology. The land where anything and everything is possible from the very worst to the very best. Just ask George Lucas and Michael Jackson.
Anyway... back to the here and now...a couple of nights ago (we're still in May by the way) I found myself at Cabaret Voltaire.. eyeing up a heck of a drummer who plays for Last Great Wilderness and, also noticed, that yes, Sans Trauma have shaped up their set. They look and sound like contenders or at least tour support to a bigger name. But, the surprise of the evening was a little threesome called 'Fuck-oFf Machete!'. I guess that's what you'd be saying if one was zinging in your direction. They played convivial little sexed-up-but-deep tunes with a cute little sexed up front-woman who I liked. What more can I say? She has sass and panache and looks good in a dress. She can also carry her bass. The best part of the night was dancing wildly to the fucked-off machete's music with my buddy Alex, who I suspect was a bit E'd up, or simply G'd up. Other than that it's been a drizzly few days lead into June.
But man oh man, the month of May shall stand in my memory like a flame. Maybe the last time in my life I get to do whatever I want.. whenever I want to. Such is the human condition.
[photo courtesy of Alavala..me and my 10-year old niece Sara going to the San Francisco Zoo under my shirt- April 2005!]
(I STILL haven't retired that month yet???!!! Apparently not... I love it too much... to say good-bye) and I'm here again anyway.
-------------------------------------------------
(I STILL haven't retired that month yet???!!! Apparently not... I love it too much... to say good-bye) and I'm here again anyway.
-------------------------------------------------
If you're looking for LAST MONTH's crises - maybe you shouldn't - go to: March 08 -
Still smokin'!!!!
=========================================================
BE THERE...... or BE SOMEWHERE ELSE!

If you don't know how.. take lessons

---------------------------------------------------------------------------------------------------------------------

UNOFFISHAL SITE ARCHIVES: Current

Dec-Nov-Oct-Sept-Aug 08 Jul-Jun-May-Apr 08 Mar 08 Feb 08 Jan 08 2007: Dec 07 Nov 07 Oct 07 Sept 07 Aug 07 July-June-May 07 Apr 07 Mar 07 Feb 07 Jan 07 2006: Dec 06 Nov 06 Oct 06 Sept 06 Summer 2006 May 06 Apr 06 Mar 06 Feb 06 Jan 06 2005: Dec 05 Nov 05 Oct 05 Sept 05 Aug 05 July 05 June 05 May 05 April 05

---------------------------------------------------------------------------------------------------------------------

SPACE: The FINAL FRONTIER! Always an eyeful: The Universe Today

Sites worth a visit and support are: http://www.adbusters.org and Be an 'Antipreneur' - anti-corporate - self-motivated activist: http://adbusters.org/metas/politico/antipreneur/

as always www.clearchannelsucks.net

----------------------------------------------------------------------------------------------------

Copyright by 2007 Electra All rights reserved.
Revised: 28 Feb 2018 15:45:27 -0000

92503 HK