CD-SHOP by Courtney Love on MUSIC by MGCK Music by UK Copyright Advice by The World

The new TWELFTH NIGHT 'VOICES IN THE NIGHT' Double CD is now available on Cyclops Records. The album of previously unreleased material, includes 3 of the earliest Twelfth Night tracks written and performed with 'Electra', in that brief, but glittering period when she was their lyricist/vocalist. If you like the words 'PROG' and 'ROCK' in the same sentence, you'll like this. So, GO get it NOW! [SLEEVE NOTES]
AUGUST 2007 -

- The Edinburgh Fringe and other Festivals
| | | | |
| --- | --- | --- | --- |
| Dundee, SCOTLAND | 31 Aug 07 | The FOOD & FLOWERS FESTIVAL, Camperdown Park, Dundee: ALTRES w/ guest vocalist Electra | 4pm |
Fri 31 August 2007 - MGCK Music

And the Green Man shall save thee...
THE FOOD & FLOWERS FESTIVAL @ Camperdown Park, Dundee. We love Dundee and know DUNDEE ROCKS!!! The Food & Flowers Festival was a slight departure from the usual Festival fare but we loved every GREEN moment of it. [Wiped the floor with the V Festival!]
A beautiful day, a beautiful day, just a beautiful day!
even if it was a little dark on stage: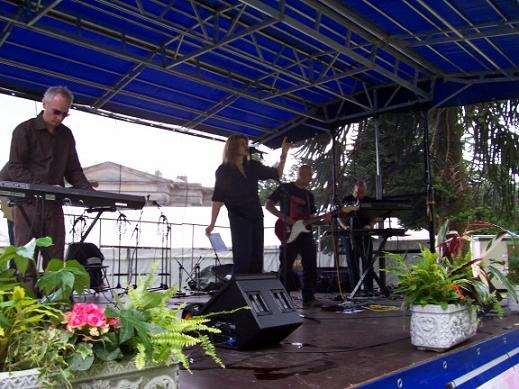 We played well!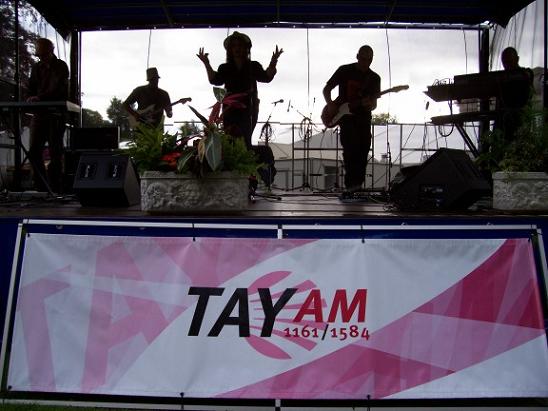 and looked good!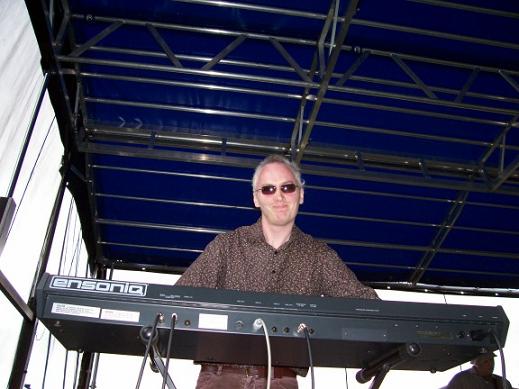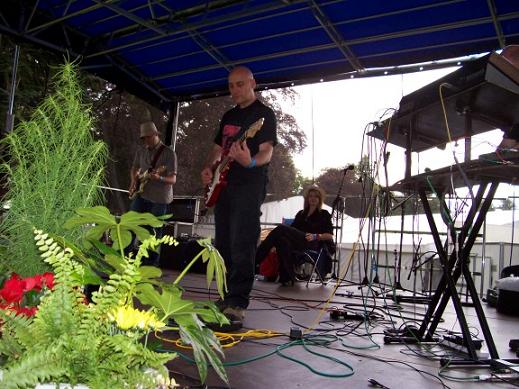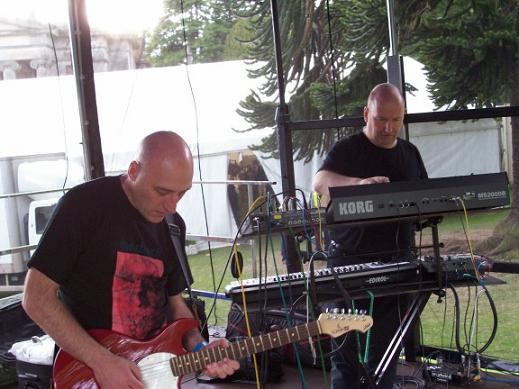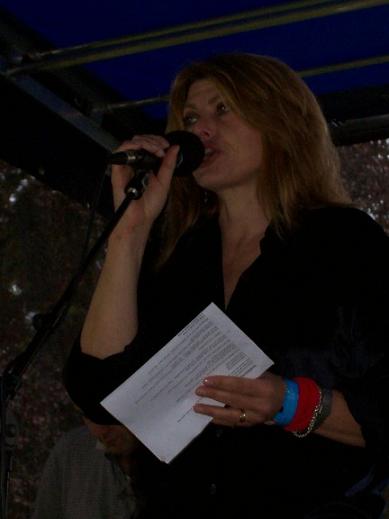 and kept the microphones from getting lonely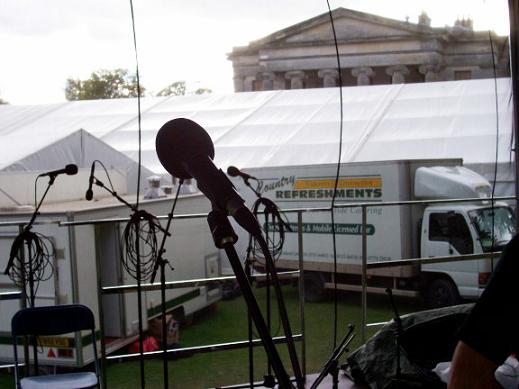 and now to the Prize Winning vegetables:
You gotta love a Leek! (Not a band name!)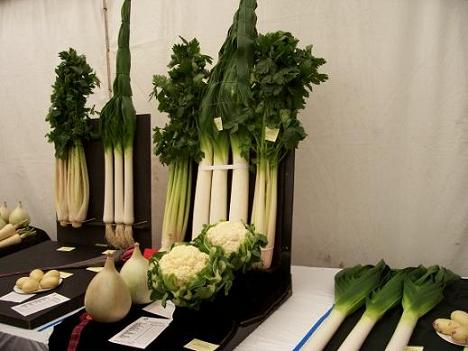 A parsnip for your thoughts?: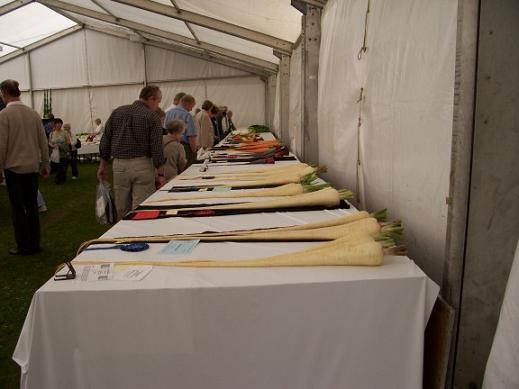 I have to give credit where credit is due; The ALTRES group photos and the 'hat' photo of Electra were taken by the ubiquitous Andy Garibaldi (DEAD EARNEST Records) *(yes, we kissed and made up!) My arty snaps are: ''The Green Man', 'Brian's Shades', 'Parsnips', 'You Gotta Love A Leek' and 'The Life of A Microphone'. Erica Plana shot me @ the mic while I performed the spoken word 'WALKING SONG'. I think I snapped Joe and Kevin and Brian from the stage as well. Mike kept hangin' out at the back.. maybe he's HERE!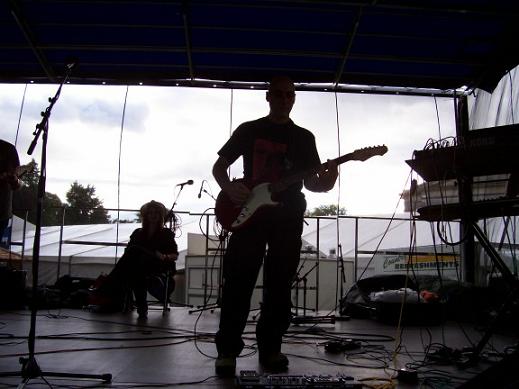 nope... not that one...
Ahhhhh here he is!!!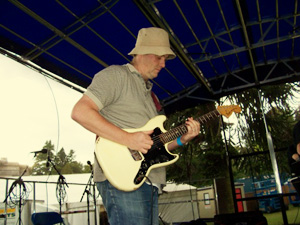 "And what about the crowd?" I hear you asking... Well... here THEY ARE!!!!!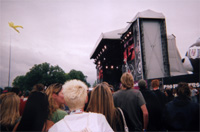 Our enjoyment of this event, took a little edge off my despair at the end of the Edinburgh Fringe. Thanks to the Food & Flowers Festival for having us and TAY AM for the SoundStage and cute engineers!
ALTRES are (in alphabetical order):
Cathy Costello - Percussion
Joseph Donnelly - synths
Kevin L. Guthrie - synths
Brian Hutton - guitar
Michael Nelson - guitar
Electra - Vocals
(Cathy Costello was not with us on this occasion)
------------------------------------------------------------------------------------------------------------------------------------------
So, WHAT HAPPENED TO SUMMER?????
OK, it's gone, and The EDINBURGH Fringe FESTIVAL is too....
...and the High Street is empty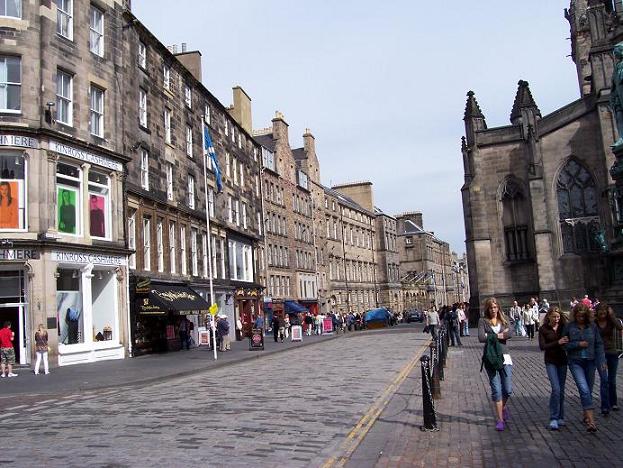 ...and the Cowgate is empty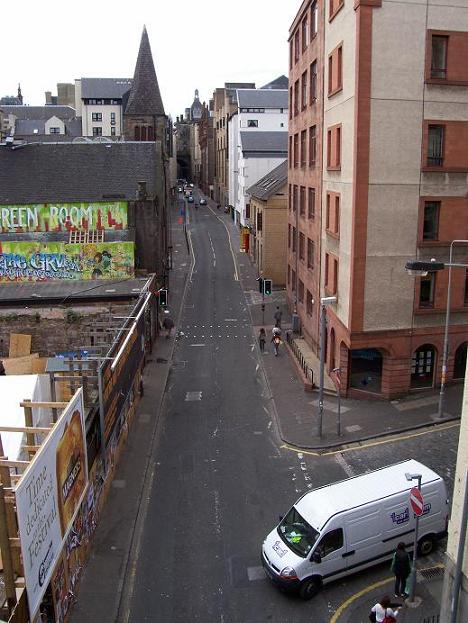 ...and the streets are empty (no one to appreciate those beautiful Festival posters)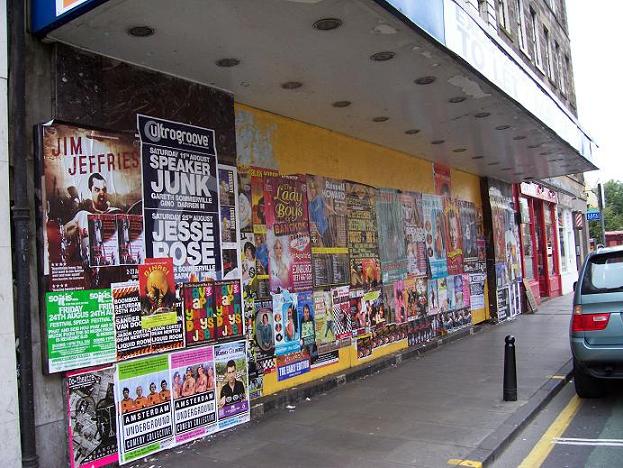 ...even the TOILETS are empty!!!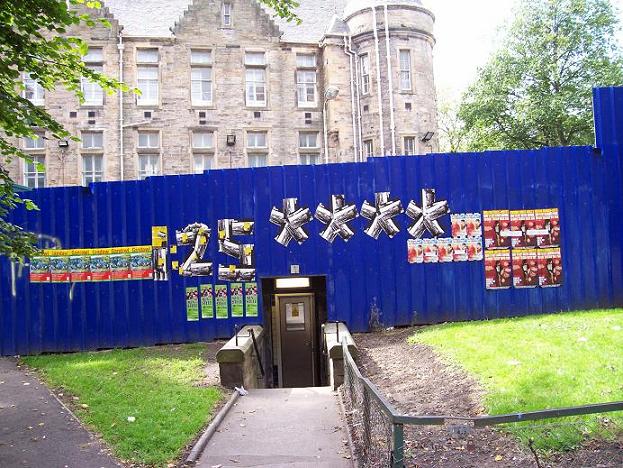 and 'during' the Festival, I had a DRINK at THIS BAR!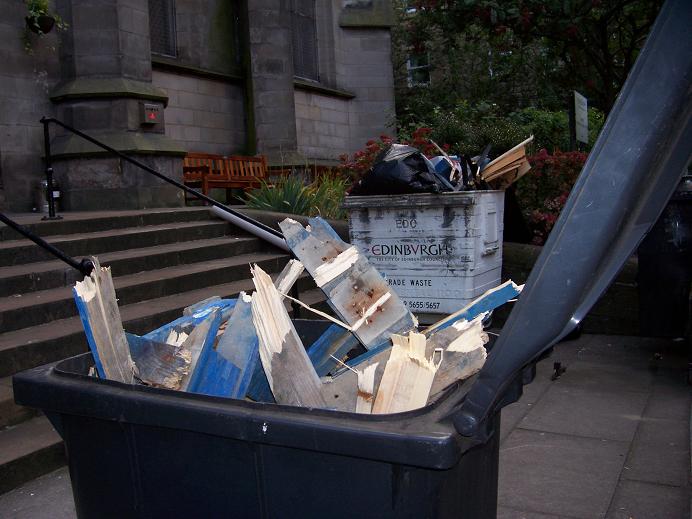 ...Now everyone in town has returned to their usual pursuits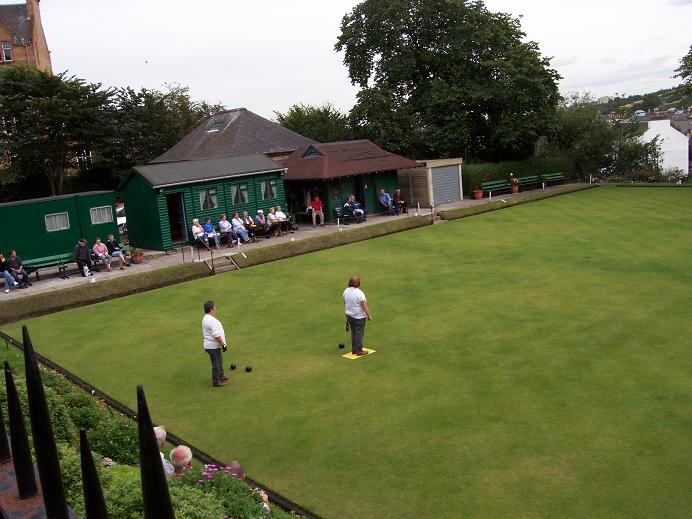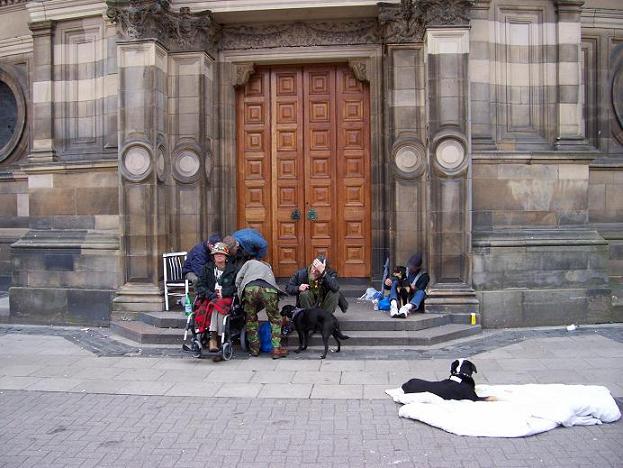 Yet... One smiling FACE still shines through! Unaffected by the absence of Festival goers.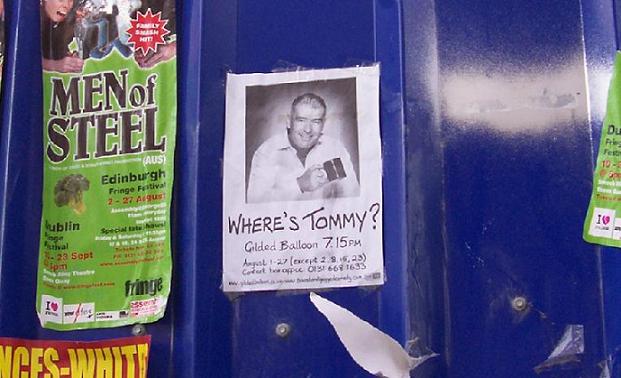 ------------------------------------------------
"When I have a camera in my hand, I know no fear."
Alfred Eisenstaedt
No photographer is as good as the simplest camera.
Edward Steichen
------------------------------------------------
Tues 28 August 2007 - MGCK Music

Shed a little tear, 'cause it's ALL gone.. for another year...
And I sit and think, 'Anywhere, oh anywhere, oh ANYWHERE but here!'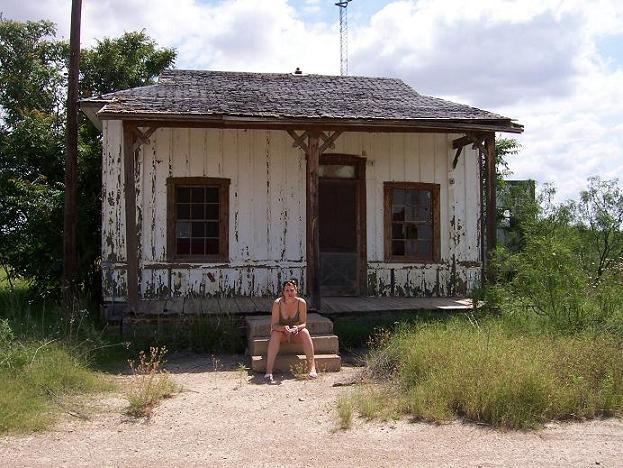 My heart is aching at the hole left by the END of the Edinburgh Fringe Festival. (A hole the size of Pecos, TEXAS!!!) It's like August began and the sky opened and we were swamped with excitements: a million things to see and do. Real OVER-stimulation. That level of 'over-stimulation' has become the green gauge of 'normal' for the month and, as it passes and all the multitude of artists are going, going, gone; Edinburgh reverts back to being a small sleepy day-job town by the sea. I've either got to GET OUT to an even quieter place or go on tour for the rest of my days. Something at either extreme end of the spectrum.
"Sometimes, I dream of a big sky and an open road..." Mao Tse-Tung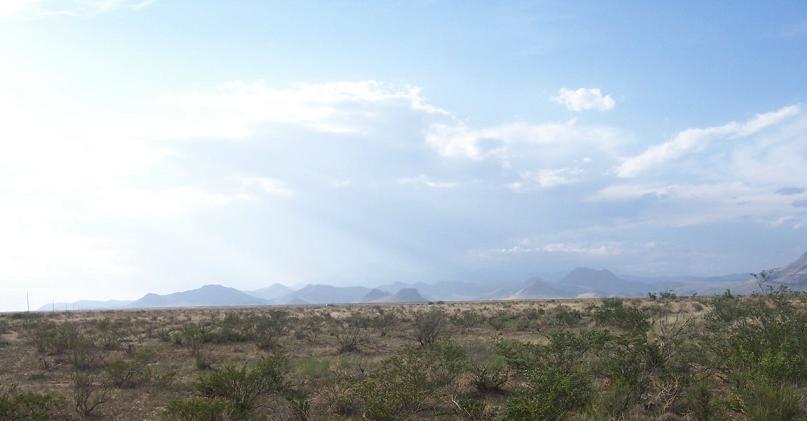 ***Completely forgot...Earlier this summer, I thought, 'what the heck' and entered a song that Ian Jones and I wrote years ago, DEAD EASY's 'Dirty Fun', in the UK Songwriting Contest. It got 8 points out of 10 and was a 'Finalist' in the Rock Category! Very bizarre, but as we know.. runner-up ain't good ENOUGH!!!!! [I have no idea who won or even what the prizes were. Simon Cowell coming to my house and tidying up?... now THAT would have been a truly useful reward.]
----------------------------------------------------------------------------------------------------------------------------------
Sun 26 August 2007 - MGCK Music

A wordy blow-back...
We've been doing the last days of the Edinburgh Festival and slowing down markedly. GET YOUR WAR ON @ The Aurora Nova was an admirable effort from Austin TX theatre group 'Rude Mechanics'; an admirable stab at chronologically journalising the ass-fuck-fest that is the strategic "Oil = Power" War in Iraq, Afghanistan, soon to be Iran, Korea, China, Mozambique and all points 'east', west or SOUTH of the North Pole!.. Of course, like most political satirists of the last 8 years, Rude Mechs have a passionate obsession with the Bush administration. But the entire hour and ten was a bit jejune for my personal political alphabet. They repeatedly stopped 'just' short of the totality of the issues and didn't dive deep enough (yet, it was a 'timeline'. Timelines are by their very nature, superficial). And, unfortunately, every honest fact they threw up had to come down with a punch-line to keep the audience (of the already converted), laughing with them all the way.
[For me, the trouble starts when you realise that 99.99% of this terribly factual information, as irrational, wacky and totally insane as it sounds when played out to you, is NOT AT ALL FUNNY - not one shred of it - and really needs to be related and addressed in a sober and action-triggering manner. Not just 'for laughs', but for CHANGE. If only David Attenborough did political satire. Anyway. I can't go into the Bilderberg Society here and the twisted dynasties of power in Washington and elsewhere on the planet...but the message, really, if you read into it properly: .. you and I (and all the little children) are doomed.. get used to it.]
-------------------------------------------------------------------------------------
In the last few days we also sat in seats at The Cirque Surreal and The Amsterdam Underground Collective and I went with my sister and my niece to see 'KNOCKED UP', which had numerous effects on my tired mind. The film seemed very complex and yet thought-provoking AND also insanely entertaining(!!) in a sad kind of Tourretesian fashion. A difficult triumvirate at the best of times. More than just a 'romantic' comedy, it was a statement: a mish-mash of popular fucked-up culture and life-skewing myths. But so is everything. It reminded me of Festivals and the sameness, superficiality and disposability of everything; the fact that no one really thinks, they just 'assume'; and there is CERTAINLY no place in the world for 'old' people (anyone a day over 22). Reminds me of Malcolm McClaren, declaring he wouldn't work with anyone over 18. It's neo-adult/newth culture gone mad. There are no rites of passage and the more aware and intelligent you are, the less likely you are to be able to function or even participate in this current fixation-filled socio-pathological society.
[Too many words... let's just get moving]
I don't know what I'm trying to get to.... Somewhere... somehow in the last 20+ years, a dumbing-down process was initiated; definitely a government directive, from the top down (probably began with Regan and Thatcher). And now, all we've got is dumbed-down people, entertainment, periodicals, information, messaging, that skates across issues and ignores questions about where we're at or where we're going and what we're doing to all life on this planet in the process. Even when it's political ('these days') it's so superficial and, honestly, does not express the correct level of horror. I guess that's it. In the dumbing-down process, they've managed to completely desensitise the herd. The cash-cattle we all are. Lying in the pen watching others of our numbers entering the abattoir, hearing their muffled screams, yet mindlessly chewing our cud.
[To finish: I saw the film 'Hostel' late last night. That's kind of where the power brokers are at, but on a much huger scale. It's all gross profit-making entertainment.]
-----------------------------------------------------------------
24 August 2007 - MGCK Music

Opposites attract
If you've ever crossed the portals of 'an office' doorway, or 'outsourced your self-esteem to an employer' you MUST see JEREMY BOUTSAKIS - THOUGHT LEADER @ The Pleasance Dome. His campaign to dissolve corporations. His 'guru to the gurus' mantras re the evolution of man away from the rat-cube runs of call centres and managed environments; we will ALL be 'sole traders' (he claims there are no Faustian connotations.) His 'Personality Prospector' and 'Democracy and Despots Slide Rule' made my day. (I won 2 t-shirts and had the highest 'conference pulse score' for the day. But I've ALWAYS been a sole trader. My product is me: You have to PAY me to KNOW me.) I saw the show early in the Festival, but he's really tightened it up now. There's only three days left. If you can.. it starts at 1:40pm.
THE BITCHES' BALL @ The Hill Street Theatre 8:30pm will be sold out, but try to see it. A magnificent period piece. What these talented thespians do with a couple of costume bits, wigs, props and an incredible story-line around the life of a little-lauded historical figure: Mary Robinson! How did this fantastic lady do the things she did at the point in history in which she did them? A must see, or at least google the incredible 'Mary'. She was a hellllllllluvva girl.
------------------------------------------------------------------------------------------
Thurs 23 August 2007 - MGCK Music

Ok.. I've got a minute, ready to ruminate!!
The V Festival Hospitality area had the same picnic tables and table cloths as the DOWNLOAD Festival hospitality tent (maybe even the same stains on them). And LOTS of 'other-alphabet'-list guests sloping about, i.e. 'Stacy Slater' from Eastenders!!! and Chantelle????!!! Did I walk into the WRONG room in the Queen Vic? Was the 'V' Festival held in Albert Square??? Or is Chelmsford really in deepest darkest Essex? Wasn't this supposed to be a 'groovy' event?? Or does 'groovy' mean something 'else' these days? (I'm sure the thousands smiling and shouting thought it was groovy enough. I'm just looking for something 'more'.) Anyway... back to the point. I'm seeing a catering theme here. The full and final corporatisation of fun. (well, that happened a while ago.. but..) It's a bit like being on an oil rig, same caterer no matter where you go and lots of bad-alphabet-list spangloids roaming about looking for a camera to smile into.. (I could hardly use my camera for spangloids throwing themselves before it, afraid they might not be in EVERY single shot!). I could almost say it was 'lucky' I dropped my camera and the back broke off... to be later repaired with electrical tape.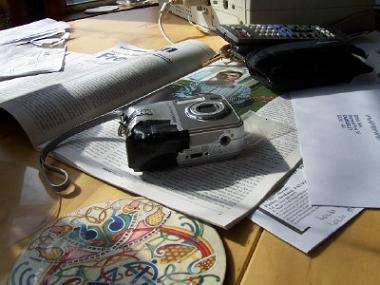 Yet... I have to admit, I'm a sucker for a VIP ticket, and even if it's clear the meaning of 'VIP' has changed, well....so have 'festivals'. 'Festivals' are not about gettin' high on a hillside (boy, I was RUINED by my sister going to WOODSTOCK), they're all about getting the headcount in and getting the money, it's all 'Entertainment' capital E. So.. aside from the blur of 'bands' (a bit too cheesily 'populist' for my tastes) that sounded not that tempting barking away in the background.. never even shambled out to look at the infamous Babyshamblist himself (and had to leave BEFORE the Foo Fighters - which I would actually like to see - maybe on a sunny hillside in California or Upstate New York!!), I spent Saturday looking at my watch, knowing I had to split early to get back up North to a Horse Show.. and for me, an epiphany came on a muddy, windy, rainy, bone-chillingly cold Sunday in the Scottish Borders, surrounded by waxed jackets and gun-dogs... That was a more real event by far. Deeply buried in tradition and unchangeable ABSOLUTE values, i.e Wellies with everything!!!!. We don't have this kind of 'country' culture in upper crust America. We read VOGUE!!! for Chrissakes... But I certainly loved every minute of it AND THE HORSES!!!! Shoot me and bury me on a horse.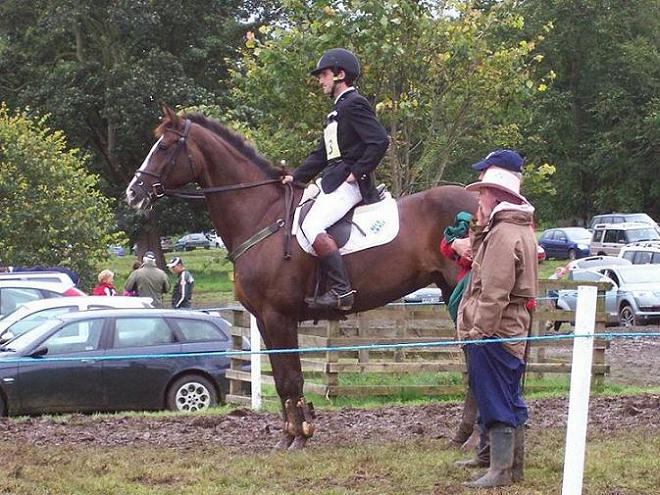 (Is he playing 'pocket pool' or just waiting his turn to enter the ring - dreaming of the 'footie' on Setanta??? Have to admit, I took some LOUSY photographs over this weekend (I chopped off legs, I chopped off heads, I even chopped off hooves!). So lousy I haven't bothered to put any of them up - just digging around after the fact.. in desperation I may put some more up later from the two events... but it's a pretty DRY i.e. 'lousy' assortment - V Fest photos are the worst!!. Could be down to the beer or the disposable camera. Beer? Disposable cameras??... I have become SO bourgeois in my dotage... Used to be LSD...and lots of it!!! 29 Aug 07)
This week at the Fringe - yes... more:
Book Festival 3 readings, poet Simon Armitage stands out as one shrewd and 'clever' guy with his translation of 'Sir Gawain & The Green Knight', but they're all clever and there is a packed audience for every single listing..
STOOPUD FUCKEN ANIMALS @: The Traverse 3 Drill Hall - Billed as a Suffock Western. Clever..sometimes too clever for it's own good. Shrouded in the dark, the audience seemed ashamed to be 'seen' in case the title meant 'us', paying by 16!!!! to see this thing! (Yes, I DO pay for some things.)
FORGOTTEN VOICES @ The Assembly Rooms - 15 Stars. Wept through the entire harrowing set of recollections. Also packed out.
THE BOURNE ULTIMATUM - @ every Cinema. Never saw the first film, but I love Matt Damon and yes, I understand we are ALL under surveillance all the time. But we ARE the enemy.
A CONVERSATION WITH EDITH HEAD @ The Hill Street Theatre. SPELLBINDING.. she tells tales from the world of genuine fashion and 'Glamour', pre-LSD.
LUNCH @ The Witchery (again!) not a Fringe show, but might as well be.. my sister wants to eat there every day.
RICH HALL @ The Assembly Rooms... yes... the great one... hysterically funny and thought provoking, as always.
TODAY: Second time 'round for JEREMY BOUTSAKIS -THOUGHT LEADER - A CONFERENCE FOR SOLE TRADERS. Going with a guest. I'm into it. His message re: outsourcing your self-esteem to your employers, is a deep theme in modern wage-slave life.
TONIGHT: THE BITCHES' BALL @ Hill Street Theatre: Just what it says on the tin - the life of Mary Robinson actress, courtesan and mistress to the Prince of Wales
and possibly probably, THE AMSTERDAM UNDERGROUND COLLECTIVE: It's free for us (like so many things), so yes, why not?
It may not seem like we've seen much, but you have to remember.. we have to eat and drink and SMOKE! and boze around AND GO TO YOGA CLASSES in between.
**I'm going to miss this Festival when it's over. Already the weather is changing and the sense of summer really heading west is in the softly-chilling air. This last week is the last desperate attempt to live it to the full. We may fail, but that's our mission.
-----------------------------------------------------------------------------------------------------
Wed 22 August 2007 - MGCK Music

It's all a bit of a blur!!
(i.e. most of the photos were 'blurred') travelling from here to there to get here to get there before something else happened over that way and then to run across to see that thing before the other thing started... peppered with a buckshot of pints. It was all kinda like that. But it was pretty enthralling (if a little pushed for time) from start to finish and it ended in the mud... as all good weekends should.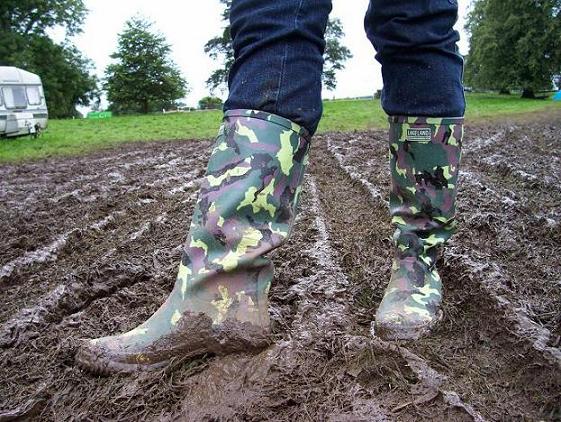 [photograph of my boots (and my tired feet in them!) courtesy of Vanessa Plana]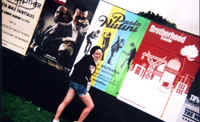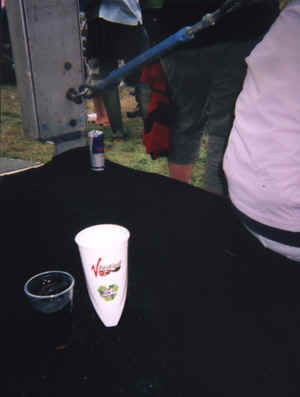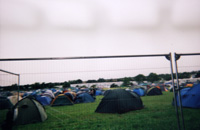 V Fest phots were disastrous... dropped my camera and had to get a disposable thingmy... got back to Edinburgh and taped up the bottom of said camera and at least the Horse Trials got a better deal. Still... the light was LOUSY on both days... grey grey grey.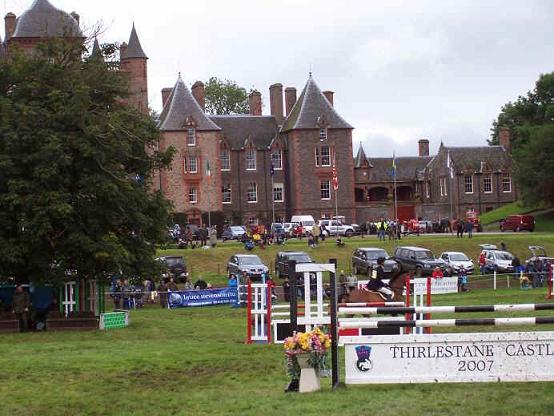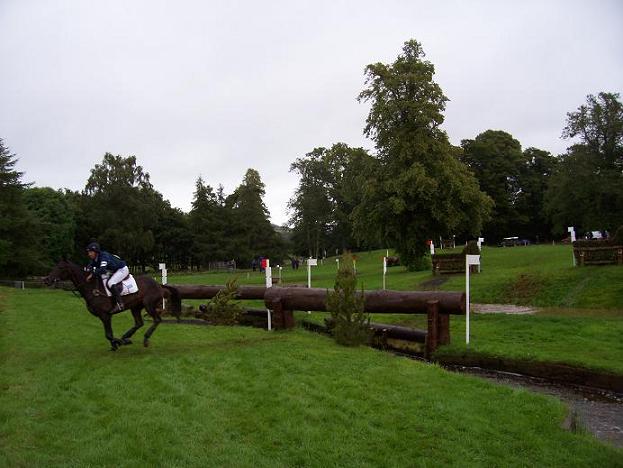 ------------------------------------------------------
Fri 17 August 2007 - MGCK Music

Decision time for the weekend ahead
The V Festival in Chelmsford...? or, uh... Show Jumping @ Thirlestane Castle in Lauder..???
I'll just do both! You may ask 'Why?!?" And I'll say
...'because I can.'
First boat, train, plane down to London tomorrow.. early one back up on Sunday. Saturday watching musos tout their wares and Sunday watching horses throw themselves over fences. Sounds ok to me. As the ad says, 'You only go 'round once...' Still can't figure out if we're getting The Killers or The Foo Fighters tomorrow, but.. does it matter? The currency of 'artists' has changed. They're just entertainment now.
[Special thanks to 'Diamond Dave' for remembering me] I will try to keep my carbon footprint to a minimum.
Thurs 16 August 2007 - MGCK Music

And now a dilemma
I've got TWO VIP Tickets (includes Parking, Campsite (always a hoot) and Hospitality - (that means access pretty much anywhere) for the V Festival in Chelmsford this weekend. That sounds pretty good, until you realise you hadn't planned on going!!! Goddammit.. does that mean I have to get down to London this weekend??? I was planning on going to a Horse Show down in the Borders? Is that an 'ungroovy' choice? Not if you want a horse!!!
Last Night: FUERZABRUTA - kinda reminiscent of the collapse of the Twin Towers and the sinking of the Titanic (occurring simultaneously) inside some place like the 'SPACE' club in Ibiza. If you plan on going, take 5 E's, just in case.
Also Yesterday: The NAKED PORTRAIT Exhibition @The Portrait Gallery.. fantastic.
P.S. - There was a rumour goin' round last weekend at the Elemental Arts Fest, that I missed performing with ALTRES because I was in JAIL!!!! That's a cracker. Love it... only my life's not that exciting! I leave the handcuffs to Paris Hilton. Although.. it might be worth it to get lifted for some worthy cause.. like blocking the proposed new runway at HEATHROW. Maybe if I get down souf this weekend.....??!!!
ALSO: Brian Hutton just informed me, ALTRES (with me, hopefully this time) will be playing a gig at a Festival of Food & Flowers in Dundee on 31 Aug. More details later.
Tonight: The Russians!! The DO-THEATRE: 'HANGMAN' @ St Stephens St Church. Always, the elite of physical interpretive theatre.
and Where's Tommy today??: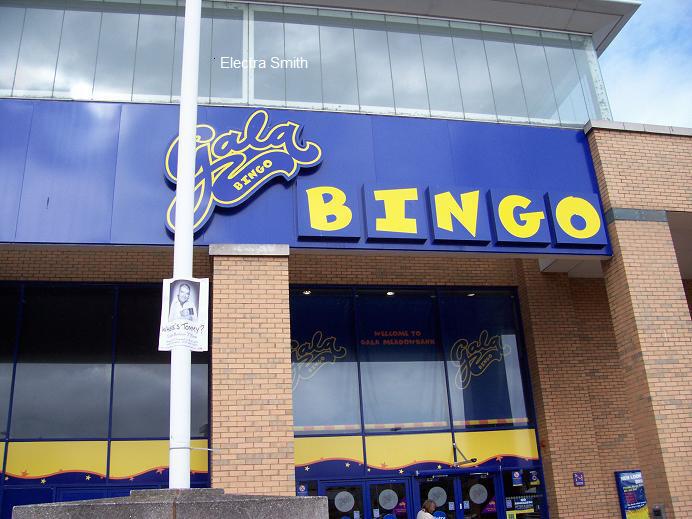 Wed 15 August 2007 - MGCK Music

The BEST of the WEST
'BEST WESTERN '- Rich Hall @The Assembly Rooms ***** + ***** superbly dark and true (obviously I liked it! - it made me think about 'truths'. We're surrounded by embezzlers. People ripping us off in BIG BIG WAYS.. the government(s) leading the pack... i.e a casual example: the IRAQI's pay the US Government (and the Brits are in there as well) for the 'job' their doing there, with Iraqi oil money, and then the american tax payer (and British tax payer) pay for it at the other burning end of the candle. And the poor frickin' Iraqi civilians, getting blown up all day long in the middle!!.... It's a TRIPLE shill. We're all caught in these double and triple shills. Getting ripped off, coming and going. The health insurance thing is another ... you pay for it all your life and in the end, you have to sell everything you own to go into a hospital. or 'care' Why do people HAVE TO go into hospitals. (Our ancestors didn't - and we're here). They've worked out a system that gets you coming... and going. And the 'greater' population are ABSOLUTELY asleep (like sheep) and IGNORANT and letting it happen.. as long as they can get a cheap flight to somewhere and 'shop'. Probably 99.99% of the population haven't got a clue (and less.. even care!) what's going on.
Tonight FUERZABRUTA
Also yesterday: was dragged to a 'History of Poetry' or somesuch at the Book Festival, which was surprisingly enthralling. It's amazing to have all this 'choice' on your doorstep. Artists (poets, dancers, actors, musicians, writers, painters... etc) are AMAZING people. They don't make much money, but what they give is gold. LIVE Theatre, in whatever form is the most incredible gift. It's 'thought provoking'.
Go out and SEE SOME!!!
(we were going to nip down to London today, but it looks like we're staying for the great shows up here instead and YES!!, maybe a tattie too!!)
-----------------------------
One sad thing I've noticed this 'Fringe'.. a lot of 'Closed' venues. The Odeon on Clerk Street was slammin' last year.. people on the terrace sipping Chianti, The Holyrood Tavern had 10 shows last year.. a few others (the names of which don't spring to mind), but the image and location of a 'VENUE' sign last year and, this year??? a boarded hoarding and TO LET sign. What's goin' on in Edinburgh? I thought this was supposed to be a healthy, vibrant, AFFLUENT city???? A lot of closed shop-fronts out there. Or maybe the city council just doesn't like The Fringe. Have you seen all the roadworks and pavement being excavated, in the middle of August? Not a very pleasant 'face' on the city this year.. It's like they don't give a toss, if we all come.. or all just GO!.. as long as they can keep the money.
THIS WEEK will see Rich Hall's BEST WESTERN, FUERZABRUTA and DO-Theatre. It takes a while, but I get around to them eventually.
Mon 13 August 2007 - MGCK Music

Ahhhh they had a good time
Brian Hutton's texts to me late Sunday afternoon as they made their way back from ELEMENTAL ARTS FEST: ""Electra, just got your message, arriving in Oban and getting a signal. It was heaven. We played over two hours. You were missed, but I could hear you inside. Partied til 6am both nights. BLISS."" and 2nd text: "It is a strange thing. I feel refreshed and like the human race maybe does have some hope. My eyes are looking on a bluer sky. The warmth and the love of the people there.. the sheer embracing nature was amazing. Modern life is shit but life is wonderful! C U in the Flowers."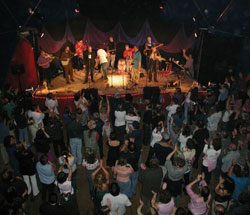 photo from inside The Dome @ the Elemental Arts Fest gig:
Sun 12 August 2007 - MGCK Music

As I write this
We're still in Edinburgh. Edinburgh Festival events and previous commitments meant we couldn't get away on Friday or even yesterday until late and then.. .not at all. Jimmy Miller missed doing his set with Kenny Brady and Electra missed doing an epic 3-hour set with the Sonic Savants: ALTRES. (I think I cried myself to sleep!!!) The only consolation is knowing it was a wet night and the drive coulda/would have been treacherous, running late with the pedal to the metal.
When Brian Hutton is back in 'mobile range' he'll give me the lowdown on what I'm sure was a typically groovy Argyll weekend. Maybe I'll get there next weekend for my fix of sunsets, mountains, sailing sea and wild folk..
Apparently, ALTRES will be doing a gig in the Park in Dundee @ end August. If I don't make it to that one.. shoot me.
[But ya know what's really strange?? 'Gigwise', nothing has gone smoothly to plan this summer, either Stateside or here.]
MUSIC WEEKEND 10/11/12 August ELEMENTAL ARTS FESTIVAL in ARDFERN, ARGYLL, ELECTRA guesting with NORMAN LAMONT for his 'WaveForms' set and Scottish sonic savants ALTRES headlining on Saturday night. JIMMY MILLER joining KENNY BRADY for an early Saturday evening set.
Fri 10 August 2007 - MGCK Music

Enjoyed and recommended
SKOLKA - 'Point of Departure Theatre' Iron Belly @ The Underbelly *****
PUPPET - Dae-Gu City Modern Dance Co (Korea) @ THE Zoo ***** (5 BIG stars) Spectacular! I'd like to spend a day just living in one of their bodies. Amazing dancers. Brilliant interpretive choreography). Emotional 'last night' farewell.
------------------------------------------------------------------------------------
Thss week will try to see: SKOLKA, CIRQUE SURREAL, AFTER ELECTRA, DO-Theatre and the RUSSIAN GIRL BAND everyone's been raving about. Plus the ONe and Only RICH HALL's "BEST WESTERN" - We almost framed our Best Western bible on the last trip Stateside.

Things I probably won't see: IF YOU LIKED SCHOOL, YOU'LL LIKE WORK. Great title.. f*cked up possibility.
The good news this week: CLEAR!CHANNEL on the block and may soon be up for sale. An aggressive takeover in progress, as we speak, in the States. This is the best news ever! Ding Dong the witch is dead.... hopefully. Bye Bye Adshel.
----------------------------------------------------------------
Weekend 4 & 5 August 2007 - MGCK Music

Enjoyed and recommended:
SPENCER DAVIS GROUP & THE YARDBIRDS @ The Jam House last night; A couple of living legends in the two supergroups from the 60's (I got Spencer's autograph!). The Yardbirds spawned more guitar heroes (Jeff Beck & Jimmy Page to name a couple) than you've had hot lunches. The Spencer Davis Group brought Muff and Stevie Winwood to the world along with a dozen white soul classics. All played last night faithful to their original 'sound' on Hammond organs and Richenbacher guitars. Sensational vibe...and the 'mouth organist'.. no pun.. a WICKED harmonica player. .. Later on, a friend of mine looked around at the audience and said, 'They've all got grey hair.' I said, 'Yeah.. but they've all had acid. REAL acid.' Sometimes I wish I was older. A great night... thanks to friends who came along and danced wid me.
JEREMY BOUTSAKIS: THOUGHT LEADER! @ the Pleasance Dome, 1:40pm: When you meet Jeremy Boutsakis he describes his own show in three words, 'Death by Powerpoint'. He worked for Barclays Bank, well up and on the inside, not just cashing cheques at a window on the ground floor and tells you - "All the conspiracy theories are true', from Bilderberg to the Owl in the forest meetings and the culling (first!) of Africa's starving millions. [Later they'll get to the rest of us!]. If you want an eye-on-the-wall, fly-on-the-wall insider's experience of what's really goin' on, have a beer with Jeremy, his show will not give you his 'insider information', yet he pulls no punches about what he knows, and he knows CORPORATIONS and their intentions(!!) are BAD for you. (I still won't believe what they say about David Rockefeller... he was my best friend's DAD!)
ROMEO & JULIET, A Rock & Roll Love Story @ The Guilded Balloon 2:45pm; While I was out workin' the pitches the other evening, a beautiful boy strolled up and struck up a conversation. Of course we talked about his play, Romeo & Juliet. And of course, HE WAS ROMEO!!! This version of the superbly eternal heart-breaking tale is billed this time around as a Rock & Roll Love Story, with a live band and 15 original songs strutting it out
Also seen and recommended by Fifi J, the highly vaunted waterworld experience of FUERZABRUTA @ Ocean Terminal.
So much to see and so little time... Then of course, there's TOMMY... TOMMY SHERIDAN that is. Tommy seems set on re-writing his own wheel, or reinventing his own book (have the metaphors gone awry?)...or just securing Max Clifford as his publicist and making a shedload o' money. Anyway... he's out there and inside the Guilded Balloon, daily 7:15pm. Curiosity might get the better of me.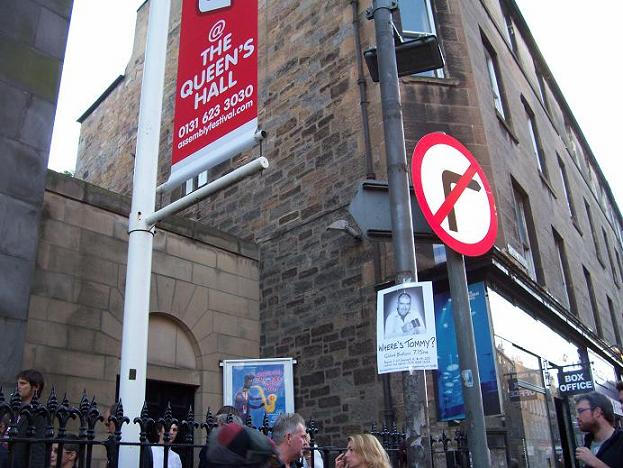 Lots of people up from London and from all points East, West, North(??? is that possible??) and South, to participate in or ogle all the action ahead.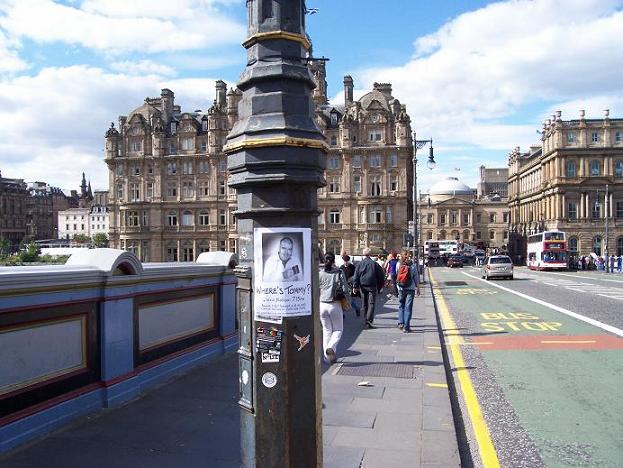 ----------------------------------------------------------------------------------------------------------------------------------
About the past????? It's gone, so let's keep it simple:
If you're looking for LAST MONTH's stuff - actually a 3-month 'JULY-JUNE-MAY 07' extravagant-anza!! :
Last month's blog: !Summer! 07

Still smokin'!!!!
=========================================================
BE THERE...... or BE SOMEWHERE ELSE!

If you don't know how.. take lessons

---------------------------------------------------------------------------------------------------------------------

UNOFFISHAL SITE ARCHIVES: Current 2017 2016 2015 2014 2013 2012

2011

2010 2009-in-ONE-BIG-BITE! 2008: Dec-Nov-Oct-Sept-Aug 08 Jul-Jun-May-Apr 08 Mar 08 Feb 08 Jan 08 2007: Dec 07 Nov 07 Oct 07 Sept 07 Aug 07 July-June-May 07 Apr 07 Mar 07 Feb 07 Jan 07 2006: Dec 06 Nov 06 Oct 06 Sept 06 Summer 2006 May 06 Apr 06 Mar 06 Feb 06 Jan 06 2005: Dec 05 Nov 05 Oct 05 Sept 05 Aug 05 July 05 June 05 May 05 April 05---------------------------------------------------------------------------------------------------------------------

SPACE: The FINAL FRONTIER! Always an eyeful: The Universe Today

Sites worth a visit and support are: http://www.adbusters.org and Be an 'Antipreneur' - anti-corporate - self-motivated activist: http://adbusters.org/metas/politico/antipreneur/

----------------------------------------------------------------------------------------------------

Copyright ©

MGCK Music -all rights

r

eserved.


Revised: 04 Mar 2018 14:07:34 -0000

92503 HK